Blog
Energy news and insights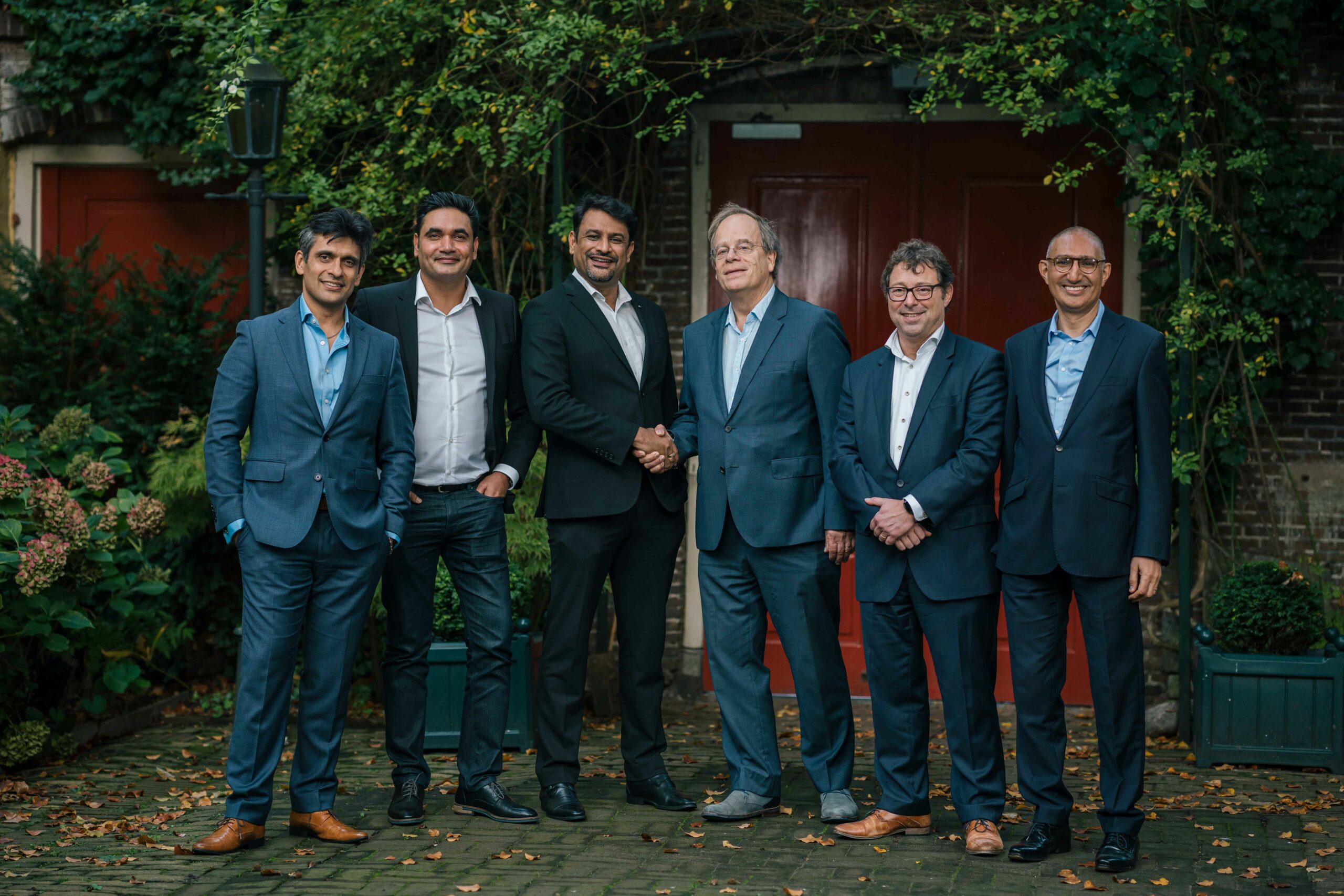 | 31.10.22
AMPYR Solar Europe Acquires SolarEnergyWorks to establish a leading position in the Dutch solar market
read article
Photograph above – From left to right:Dhruv Menon (CFO, ASE); Rajesh Gathala (CEO, ASE); Tarun Agrawal (CTO, ASE); Marc van Velzen (co-founder, SEW); Eric van der Gun (co-founder, SEW); Cyrus Dadachanji(COO,ASE).
Maastricht, October 31, 2022
– AMPYR Solar Europe (ASE), a leading pan-European solar developer and independent power producer ("IPP"), today announced that it has acquired Netherlands-based SolarEnergyWorks' (SEW) solar business, including a highly experienced team of 15 professionals and a high potential asset pipeline of 100 MWp of ready to build and 650 MWp of under-development assets. Following this acquisition, AMPYR Solar Europe will have a development pipeline of Solar PV assets of over 1 GWp in the Netherlands, and an aggregate development pipeline of 6 GWp including Germany and UK, moving AMPYR Solar Europe a step closer to its goal of being a leading independent solar power producer in Europe. "SEW has successfully assembled a portfolio of high-quality solar power generation assets across the Netherlands, therefore we are delighted to have completed this acquisition,'' said Alexander Koeman, Managing Director of AMPYR Solar Europe Netherlands. "The acquisition of SEW complements our existing Dutch business very well and will help accelerate our long-term plans in terms of portfolio growth, talent addition, local presence and the renewable energy transition in general." "As a growing company, we continue to look for strong asset pipelines and high-quality teams and in SEW we found that perfect match. This acquisition further accelerates ASE's plan to deploy significant capital in this sector in the near term as we continue our journey in becoming a market leading operator in Europe", said Rajesh Gathala, CEO AMPYR Solar Europe and AGP Partner. Eric van der Gun, SolarEnergyWorks co-founder commented: "Finding a buyer with the right philosophy and attitude was as critical a part of our selection as its financial strength. In AMPYR Solar Europe, we have found a company with complementary competences, matching DNA and vision on the development of the solar industry in the Netherlands. I am confident that the expanded company will bring a high quality and expanded portfolio of Dutch solar assets to fruition.
"
Marc van Velzen, SolarEnergyWorks co-founder further noted that "the cooperation with AMPYR Solar Europe will secure further growth of SolarEnergyWorks within the group by adding technical and financial strengths." Post this acquisition, AMPYR Solar Europe will grow its team strength to 22 people in the Netherlands and add Utrecht as another office location. In total, AMPYR Solar Europe now employs 60 people across its operations in the UK, the Netherlands and Germany, and has a combined large-scale solar project pipeline of over 6 GWp. Law firms Osborne Clarke and DLA Piper advised on the acquisition. For more information, contact Rupert Rowling on
rupert@momomediagroup.com
About AMPYR Solar Europe
Headquartered in London, with offices in Maastricht, Utrecht, Frankfurt and Berlin, AMPYR Solar Europe is an Independent Solar Developer with in-house end-to-end capability across Asset Development, Construction, Operations and Power Sales. AMPYR Solar Europe's unique platform benefits from a highly experienced sponsor group: AGP Sustainable Real Assets brings extensive experience in establishing and operating GW scale renewable platforms; Hartree Partners' cutting edge power trading analytics and zero-carbon solutions; as well as NaGa Solar's and SEW's in-depth local knowledge and land development capability. For more information, visit:
www.ampyrsolareurope.com
[sz-button title="Download Press Release" url="https://www.ampyrenergy.com/app/uploads/2022/10/PR-october-2022_-Final.pdf"]
| 13.10.22
AMPYR and Shell Energy to jointly develop, own and operate a 500 MW / 1,000 MWh battery energy storage system in Wellington, New South Wales
read article
[Sydney, 14 October 2022] AMPYR Australia Pty Ltd (AMPYR) and Shell Energy Australia (Shell Energy) have signed a joint development agreement for a proposed battery energy storage system strategically located in Wellington (the Wellington BESS), Central West New South Wales (NSW). The target capacity of the Wellington BESS is 500 MW / 1,000 MWh, making it one of the largest battery storage projects in NSW.  The Wellington BESS will connect to the adjacent TransGrid Wellington substation, adjacent to the Central West Orana Renewable Energy Zone (Central West Orana REZ).  It will complement nearby existing renewable energy generation assets as well as the proposed additional generation to be delivered as part of the Central West Orana REZ. The Wellington BESS will smooth out fluctuations in electricity supply from these new intermittent power sources, providing system security benefits and other network services. The Wellington BESS has been under development for over 18 months and the Environmental Impact Statement (EIS) is expected to be released for public consultation later this month. The Wellington BESS project is being jointly developed by AMPYR and Shell Energy. Subject to securing all relevant approvals, authorisations and financing, construction is expected to commence in mid-2023. Once operational, Shell Energy will hold the rights to charge and dispatch energy from the Wellington BESS. "AMPYR is proud to be partnering with Shell Energy on the Wellington BESS, which will be one of the largest battery storage projects in NSW, contributing to the reliability of the National Electricity Market and further advancing Australia's clean energy future," Ben Salmon, AMPYR's Director said. "It is a very exciting time for renewable energy in Central West NSW, with over 3GW of utility-scale wind and solar operating, in construction and under development. This is great for the economy of Central West NSW. AMPYR is proud that the Wellington BESS will boost growth in regional NSW and form a critical part of the new energy future for the region," Mr. Salmon continued. Shell Energy's Chief Executive Officer Greg Joiner said Shell Energy is excited to contribute to the growth of firming capacity in regional NSW. "This partnership with AMPYR signals our commitment to accelerating the energy transition, with this project contributing to improved reliability for the grid and energy consumers in the state. This is another example of how Shell Energy is powering progress in Australia through investment in low-carbon solutions," Mr Joiner said.
About AGP Sustainable Real Assets and AMPYR Energy
AGP Sustainable Real Assets (AGP) is an asset development and investment management group, investing in, developing and operating sustainable infrastructure. AGP established AMPYR Energy, its global renewable energy platform, to accelerate a net-zero greenhouse emissions future and respond to the rapid changes in the energy sector worldwide. Headquartered in Singapore, with operations and assets in Australia, India, Europe/the United Kingdom and the United States, AMPYR Energy provides low-cost renewable power, battery storage and other network and non-network solutions to customers. AMPYR Australia Pty Ltd (AMPYR) is part of AMPYR Energy and is currently focused on investing in behind-the-meter and BESS assets. For more info visit:
www.ampyrenergy.com
and
www.agpgroup.com
About Shell Energy 
Shell Energy is Shell's renewables and energy solutions business in Australia, helping its customers to decarbonise and reduce their environmental footprint. Shell Energy delivers business energy solutions and innovation across a portfolio of electricity, gas, environmental products and energy productivity for commercial and industrial customers, while our residential energy retailing business Powershop, acquired in 2022, serves more than 185,000 households and small business customers in Australia. As the second-largest electricity provider to commercial and industrial businesses in Australia
[1]
, Shell Energy offers integrated solutions and market-leading
[2]
customer satisfaction, built on industry expertise and personalised relationships. The company's generation assets include 662MW of gas-fired peaking power stations in Western Australia and Queensland, supporting the transition to renewables, and the 120MW Gangarri solar energy development in Queensland. For more info visit:
www.shellenergy.com.au
Shell Australia Media Mobile: + 61 417 007 344 [sz-button title="Download press release" url="https://www.ampyrenergy.com/app/uploads/2022/10/221014-JDA-Press-Release-AMPYR-Shell-Energy.pdf"]
[1]
By load, based on Shell Energy analysis of publicly available data.
[2]
Utility Market Intelligence (UMI) survey of large commercial and industrial electricity customers of major electricity retailers, including ERM Power (now known as Shell Energy) by independent research company NTF Group in 2011-2021
| 22.06.22
AMPYR and BELECTRIC execute framework agreement to install 200 MWp of solar projects in Germany
read article
[22nd June 2022]
Agreement for construction of solar projects with total capacity of 200 MWp signed between AMPYR Solar Europe (ASE) and BELECTRIC
Solar farms to be set up in Brandenburg are developed by ASE, with EPC works to be executed by BELECTRIC
BELECTRIC and AMPYR Energy's Global Centre of Excellence New Delhi to collaborate on engineering design and supply chain management for these projects
Kolitzheim (Germany) / London (United Kingdom) – AMPYR Solar Europe (ASE) and BELECTRIC agree to install a pipeline of more than 200 megawatts (MW) of solar capacity in Germany. The first power plants to be constructed are located in Brandenburg, Germany. AMPYR and BELECTRIC signed a framework agreement to construct a pipeline of several large-scale projects in Germany within the next two years. "We are pleased to have a strong partner like BELECTRIC who brings in extensive experience in large-scale solar plant construction, operations & maintenance. We are particularly excited about collaboration in engineering and supply chain management within teams at BELECTRIC and AMPYR's Global Technical Centre (AMPYRTech), to bring in the latest solar PV technology, while at the same time navigating the supply chain volatility", says Tarun Agrawal, Partner at AGP Group (AMPYR Energy). Two of the solar farms to be constructed are located in Brandenburg. The largest solar farm will have an installed capacity of 85 MWp. The second plant will consist of six sub areas which together make for a total capacity of 65 MWp. This project is especially challenging as a 25 km long line as well as a substation need to be built. Construction works for the two solar farms are expected to begin by the end of the year 2022. Dr. Thorsten Blanke, CEO of BELECTRIC GmbH, explains: "Our framework agreement with AMPYR is a great basis to implement further German projects in the future. We are delighted to expand our collaboration." AMPYR Solar Europe brings together AGP's experience in developing large-scale renewable power projects, Hartree's cutting edge power trading analytics and zero carbon solutions with NaGa's in-depth local knowledge and land development prowess. Combining these complementary skills will speed up the build out of solar capacity and offers an attractive opportunity for institutional investors to deploy in excess of €1 billion of capital and generate a reliable, long-term income. BELECTRIC is one of Europe's leading EPC service providers in the development, construction and operation of solar power plants. The solar energy specialist looks back on more than 20 years of experience in power plant construction and has built over 4 gigawatts of capacity worldwide. BELECTRIC is a member of Elevion Group. Elevion Group BV is one of Europe's leading energy service providers in the field of modern energy solutions that focus on sustainability and climate neutrality. Elevion Group belongs among Germany's market leaders in this segment. The group currently is comprised of approximately 60 consolidated companies and employs more than 4,700 people in twelve countries – in addition to Germany, these include the Netherlands, Austria, Italy, Hungary, Poland, Romania, and China.